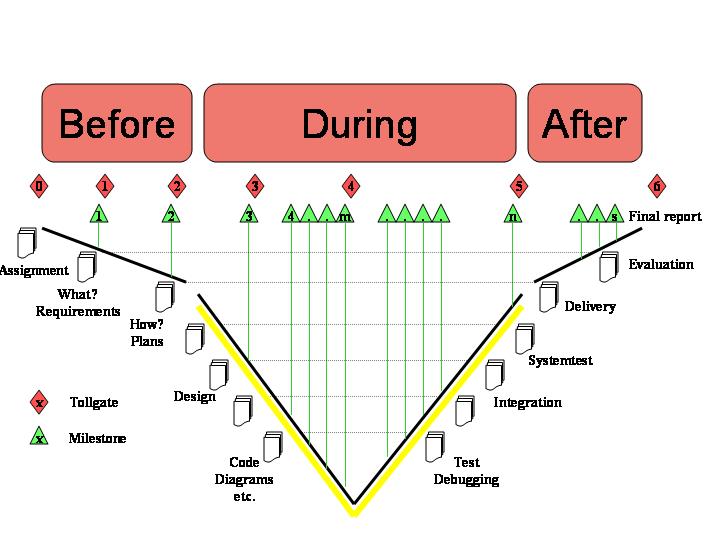 ---
An overall description of the phases
The model includes three phases, BEFORE, DURING and AFTER.

Decisions regarding the project¿s progress are made at a number of tollgates. The tollgates are positioned between the phases of the project or after a milestone.

BEFORE
During this phase, the assignment is given and the execution of the project is planned. The task, "what to do", is defined in a requirement specification and how to do it is initially defined in a system drawing. Activities are identified, and resources and time are planned. The plans for the execution of the project are collected in a project plan.

This phase has to be executed carefully. Incorrect planning will never result in a successful project. The long, but not so deep, extension of this phase indicates that this phase often takes a long time, without getting into details of the practical work.
Execution of the next phase can only begin after a positive decision by the sponsor.

DURING
The project activities that lead to the practical result are executed during this phase. Detailed design specifications are created. The activities are performed, documented and tested. The sponsor is continuously informed through meeting minutes and status reports.
The phase is concluded with a system test.
In the figure above, this phase is illustrated by a deep v-form. This shows that the project is now executed to a high level of detail. What you specify and design at one point on the falling edge, are tested at the corresponding point on the rising edge. For example, the design specification, available early in the phase, is verified in a system test at the end of the phase. A code written deeper down in the v-form is tested at the same level on the opposite side.
The yellow border of the v illustrates that different work models are used during this phase.

AFTER
In the after-phase, the project result is transferred to the sponsor and the project is closed. After this, an evaluation of the project is made.
As seen in the figure, this phase very often consumes substantial calendar time. This might be the most difficult task in a project, to get it finalized and closed.
Do you want to read more about Lips model?
The model is further described in the book "Project model Lips", Tomas Svensson, Christian Krysander, Studentlitteratur (ISBN 9789144075266)
Page responsible: Mattias Krysander
Last updated: 2016-11-24